San Diego, California – October 31, 2023 – Counterpoint Funds, a quantitative mutual fund and ETF provider specializing in defensive diversifier strategies, today announced that the Counterpoint Tactical Municipal Fund (TMNIX) is now ranked 1st for 3 and 5-year returns out of 188 and 176 funds respectively, for the period ending September 29, 2023, in the High Yield Muni category, based on total returns.
TMNIX, a 5-Star rated fund in the High Yield Muni category based on risk-adjusted returns out of 188 funds for the 3-year and 176 funds for the 5-year period ending September 29, 2023, by Morningstar Inc.1, a leading provider of independent investment research, returned -3.12% in 2022 versus -13.46% and -8.58% for investment grade municipal and high yield municipal bonds.
TMNIX Annual Return Since Inception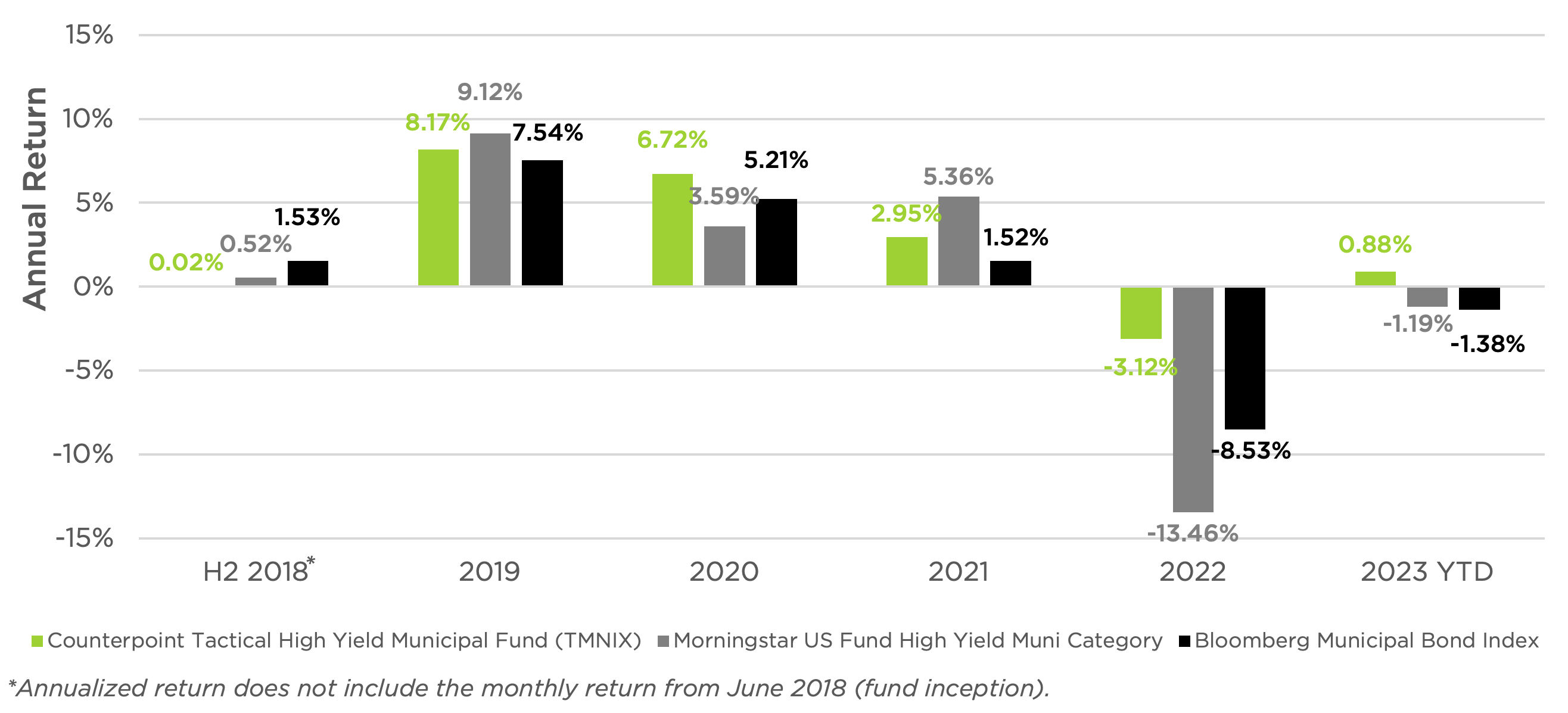 "The Counterpoint Tactical Municipal Fund is a great option for advisors conducting tax-loss harvesting given the volatility of the municipal bond market over the last 24 months. The Fund's tactical trend-following strategy has historically managed downside risk during these challenging times in fixed income," said Michael Krause, Partner & Chief Investment Officer at Counterpoint Funds.
Developed by Counterpoint Funds, the Counterpoint Tactical Municipal Fund (TMNIX) launched Jun., 2018, and had $213.4 million in net portfolio assets as of Oct. 25, 2023. Leveraging a binary municipal high yield trend-following strategy, Counterpoint Tactical Municipal Fund seeks tax-free income and capital preservation by providing municipal high-yield like returns during stable or recovering market environments and switching exposure to municipal money market in times of market stress.
"The risk management strategy utilized by TMNIX has shown strong resilience in today's challenging rate environment and has continued to perform, beating both its' benchmark and Morningstar fund category for 3 and 5-year periods as well as since inception," added Mr. Krause.
For more information on the Tactical Municipal Fund please visit cpfunds.com/tmnix

The performance data displayed here represents past performance, which is no guarantee of future results. Current performance may be lower or higher than the performance data quoted. The investment return and principal value of an investment will fluctuate so that investor's shares, when redeemed, may be worth more or less than their original cost. For performance information current to the most recent month-end, please call toll-free 844-273-8637.
TMNAX (A shares) have a Front-End Sales Charge (commission or "load") of 4.50%, with lower rates for accounts over $25,000. The total annual fund operating expense ratio, gross of any fee waivers or expense reimbursements, is 1.22%, 1.47%, and 2.22%, for Class I, Class A, and Class C shares respectively.
About Counterpoint Funds
Counterpoint Funds is a defensive, systematic and research driven mutual fund and ETF provider with 4 funds and over $1.5 billion in assets under management. Counterpoint is focused on offering defensive fixed income and equity diversifier strategies designed to drive portfolio performance over the long run. Counterpoint's mutual funds and ETF employ quantitative investment strategies that base asset allocation and security selection decisions on academic research and statistical analysis. Counterpoint Mutual Funds, LLC, is located at: 12760 High Bluff Drive, Suite 280, San Diego, CA 92130. Tel: 858-771-4000
NOT FDIC INSURED – MAY LOSE VALUE – NO BANK GUARANTEE
Press Contact
Counterpoint Funds
John Held, VP of Marketing
+ 1 (619) 752-4087
press@counterpointmutualfunds.com